Scuola e Lavoro (School and Work)
I Percorsi per Competenze Trasversali e Orientamento (PCTO) definiti dalla legge del 30/12/2018, n.145, art.1, c. 784 (in precedenza noti come Alternanza Scuola-Lavoro) sono stati inseriti organicamente (come strategia didattica) nell'offerta educativa delle scuole secondarie come parte integrante dei processi formativi, cone indicato dalla legge del  13.07.2015, n. 107, art. 1, c. 33. L'unità di Pisa del CNR/INO ha ospitato regolarmente studenti inquadrati in PCTO che si sono principalmente dedicati all'organizzazione di eventi di divulgazione scientifica, sotto la guida dei ricercatori dell'istituto,
The PCTOs (Paths for Transversal Competences and Orientation, formerly ASL – School-Work Alternation) are stages for students in private or public companies. PCTOs are presently part of the  educational offer of all high schools in Italy.  The Pisa CNR/INO unit has been regularly the host of students involved in PCTOs, mainly dedicated to the organization of scientific outreach events under the supervision and tutoring of INO staff researchers. 
Eventi PCTO 2017-2021:
2021 – Progetto PCTO "Giochiamo con la crittografia quantistica"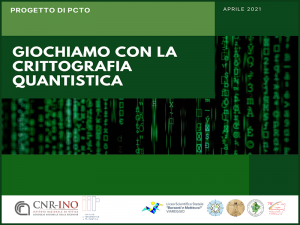 "Giochiamo con la crittografia quantistica" su Il Nuovo Saggiatore
Presentazioni finali dei partecipanti al progetto
2020: Attività sospesa causa Covi-19
2019 – Workshop "Elementare, Mendeleev!"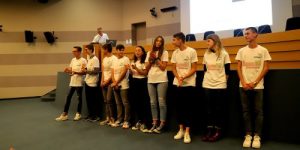 News dell'evento a cura degli studenti

2018 – Vedere l'invisibile.  Viaggio metavisivo alla scoperta dei segreti della luce
Dettagli     Programma     Brochure     Stanza di  Ames ↑
(Foto © C. Lanza, 2018)
2017 – Divulgatori per un giorno  e …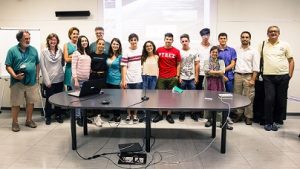 Laboratorio "Biblio-INO"