"AirSterizUv", a project to reduce the risk of transmission of Sars-Cov-2 in buildings open to the public.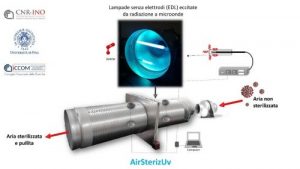 Si è conclusa con successo la prima fase del progetto "AirSterizUv", volto allo sviluppo di una tecnologia di sterilizzazione di sistemi di condizionamento d'aria di edifici aperti al pubblico come scuole e ospedali, un punto strategico per affrontare nuove fasi della pandemia o altre minacce future per la salute.
Il progetto vede coinvolto il CNR con l'Istituto Nazionale di Ottica (INO) e l'Istituto di Chimica dei Composti Organometallici (ICCOM) in collaborazione con il Thermolab del Dipartimento di chimica e chimica industriale dell'Università di Pisa, ed è finanziato dal MIUR – FISR, dedicato alle nuove esigenze e questioni sollevate a seguito della diffusione del virus Sars-Cov-2 e dell'infezione Covid-19.
Ulteriori dettagli: News CNR
Per informazioni:
Carlo Ferrari
CNR – INO Sede di Pisa
carlo.ferrari@cnr.it